"Mobster Mess"

Addicted To Mobsters...lol
Some tales Of those addicted to the Game We Love TO PLAY 24-7



I never thought it would happen to me. I've heard people at work discussing World of Warcraft and Everquest, but I never felt inclined to try them for myself. I've played Halo and Guitar Hero each once just so I wouldn't feel completely out of touch with the rest of the world, but I never felt the desire to try them again. I was into SimCity back in the day, but it was a phase that passed rather quickly. With such a long history of video game avoidance, how is that I find myself suddenly addicted to the MySpace game Mobsters?
For those of you who still have lives that don't revolve around it, Mobsters is an online game where you pretend to be a mobster, doing missions, fighting other mobsters and making as much money as you can, while trying to entice your family and friends (as well as complete strangers) to join your mob so it becomes more powerful. You rise in level based on experience points while accumulating properties which make you money, and accumulating equipment which makes it harder for other mobsters to attack you. The completely baffling thing is that while you can spend hours at a time playing Mobsters, you don't actually do anything. You "fight" other mobsters by clicking on a button that says "fight" and then waiting for the outcome. You don't actually fight anyone. You complete "missions" by clicking on a button that says "complete mission" and then waiting for the outcome. You don't actually play anything. Despite this, I can't go more than an hour or two without signing on to MySpace to see how my mobster is doing. Even writing about it I feel the need to make sure nobody is stealing my hard earned mobster money. I will fight this urge though.
It all started out innocently enough. A friend started playing Mobsters and sent me an invitation to join their mob. I was having a bout of writer's block so I thought I'd waste a couple minutes checking it out. A couple hours later I had already risen several levels and was sending out invitations to all of my friends to join my mob. Several of them, including my fiancé, quickly became addicted. My fiancé and I rarely see each other anymore because she sits on the computer upstairs playing mobsters while I camp out on the computer downstairs. Sad. Most of my friends resisted the invitation though, which left me with a very small mob that was constantly getting attacked by larger mobs. What was I to do?
The moment that my Mobster addiction took on a scary new life was when I went to a website devoted entirely to adding other MySpace members just so you can increase your mob size. That's right, this game has gotten so out of control that there are websites set up just so you can add people who play the game. I was so desperate to increase my mob size that I invited everyone I could. I didn't bother to check out their MySpace pages to make sure I wasn't inviting the next Charles Manson or Ed Gein to be my friend. If they were like me and addicted to this game they were probably good people. My MySpace page went from being a collection of friends and family, including ones I hadn't spoken to in years and probably never would have again had it not been for the wonderful networking abilities of this site, to being a collection of complete strangers whose presence would increase my chance of a positive outcome anytime I clicked the "fight" button on Mobsters. As far as I know all of my real friends are still there, but it's getting increasingly harder and harder to tell as more and more people are added simply to aid in my addiction.
We can delve into the psychological reasons why we love mafia entertainment so much (Goodfellas and The Godfather are two of my favorite movies), but I never passed Psychology 101 in college so we won't. Maybe it has something to do with greed and the thrill of accumulating wealth even if it is only pretend wealth. Monopoly anyone? Maybe it's a blood lust thing. For me the biggest thrill came when I clicked on the "hit list" button and whacked my first fellow mobster. It was quite a rush. Maybe it has something to do with connecting with complete strangers online to play and pretend to be bad. I just don't know. All I do know is that if anyone wants to join my mob I'm still not up to 500 members yet, and I could really use you. Oh my God, somebody stop me! BBWWHHAAA TO FUNNY...LMFAO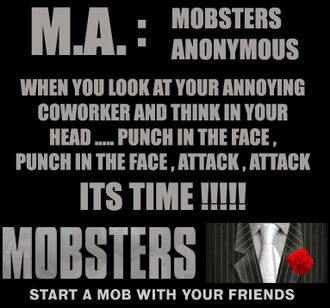 YOUR A MOBSTER ADDICT IF...............

When you walk in to a store and someone cuts you off in a line what do you do.

Smile, attack them, or slap them in the face?

Those addicted to myspace mobsters may THINK about attacking or slapping them. Never forget that you are

Do you spend more time playing the game myspace mobsters then you do performing work related tasks? You may have to go to the godfather and redeem your self.

If you answered yes to either question, perhaps you are addicted the only cure that I can think of is to continue playing the game and let it run its course, for you see all good thing come to an end. So go forth my myspace mobster friend go whack an online mobster today.
You may be addicted to Mobsters if some of these apply!
---
1) You recently decided to delete any friends who won't accept your mobster invite.
Sorry grandma but that's the way its gotta be, You're either for me or you're against me
2) You get excited whenever you steal someone else's money but take it personally when someone takes yours and punch them in the face or place hits on them
3)You get extremely upset when the Internet goes down and you run around panicking about how you must be losing all your mobster money
4) You stayed up all night long to watch your cash
5) You set your alarm to wake up every hour and make bank deposits
6) You know the exact times of day your Energy will be sufficient to pull off a mission
7) You feel running moonshine is a waste of time
8) You calculate the return on investment for Territory, and decide the skyscraper is just not worth it yet
9) You refuse to buy a rocket launcher because the upkeep cost does not justify the benefit
10) You fight someone with a weak mob the minute your health reaches 22, so you will go to the hospital and are free from attack
11) You rushed to your PC when you wake up to see if you were robbed and how much you lost
12) Turns out you were robbed in real life, everything in your house is gone but you still have your mobster cash and you feel relieved
13) You just added a serial killer/stalker to your friends list and all he had to do was type the word "Mobster"
14) Your Spouse says it is the mob or me...I haven't seen you in 2 weeks
15) Your spouse has discussed with you about calling the FBI to be placed in witness protection
16) You consider broadcasts a rip off, but do it any way
17) You have joined Mobsters Anonymous
18) You take offense when people drop you from their mob
19) You tell people you're going to ice your kids and spouse if they don't leave you alone to mob
20) You have set up baby sitting services with your friends when you're away from your computer longer then 50 mins
21) You create multiple myspace accounts to beat up the lower levels that attack your higher level
22) You place hits on yourself just to level and earn kills
23) You create a mobster group with live chat
24) It is your mission to kick Tucal, Silent Shot Tracy, and Pickle head out of the top fighters list
25) You spent 45 mins coming up with a spread sheet to figure out which property will make you more money
26) You have made a schedule which includes carefully plotted times when you get paid and when your energy is enough to pull off the mission you need
27) You e-mail your bank/mission schedule to your babysitter
28) Not enough of your real friends would join your mob so you have resorted to finding & requesting/accepting request from ppl whose page you typically would spend enough time on to find our their names & you still don't! You add them, their in your mob & that's as far as it goes
29) You laughed at more than half of these, OUT LOUD because they were soooo true!
30) 98% of your bulletins are mobsters related whether you post them or your friends do
31) You eventually start to lose weight because you rather focus on building your mob than eating a meal or two
32) You read the bulletin name,took the time to click & read & now your going to repost it just so your fellow mob members can have a good laugh too!
GAMING ADDICTIONS
Gaming addiction is just as much a problem as any other addiction. People can get addicted to anything, and some people will get addicted to just about anything. It's not so much the games we need to be worried about, rather, the people who show signs of addiction and addictive personalities. It isn't the games faults that the person is addicted. The person just needs to be helped along to realize that they are addicted and that it is not healthy.
Someone may get addicted to a game for a multitude of reasons, just like someone can get addicted to television, gambling, drugs, ANYTHING. It's a well known fact that people can get addicted to anything, but it's only seen as a problem if it's video games, drugs, alcohol, or gambling. What about someone who is addicted to collecting something? Someone who is addicted to television? What about someone who is addicted to eating? Any sort of addiction is unhealthy, and video game addiction is no different. It needs to be treated, just like any other addiction, although I'm not sure it needs it's own full blown video game rehab clinic.
I say these things, but I too have felt the addiction to a virtual world. When I was just 11 years old, I was introduced to Everquest, and I slowly became addicted. Neither my sister nor I realized we had become addicted, but sure enough. The game was pay-to-play and if we couldn't get the $15 for the month's subscription, it would hit me pretty hard. I eventually realized that I was addicted, however and swore off the game forever. Some people may not be so lucky, though.
If you know someone who is addicted to a video game, try to suggest hanging out with that person doing other things than video games. Try to get them away from the video game so that they realize they don't need it to have a good time in life. Also, try suggesting to them that they might play a little too much, that they might spend their time more productively, at least some of their time. You'll probably be met with hostility, but that is the case with any addiction.
I would tell Mark to STFU before I LIST your ASS...

BBWWHHAAA KEEP ON MOBBIN BIACHES..